Welcome to Broderick's Engraving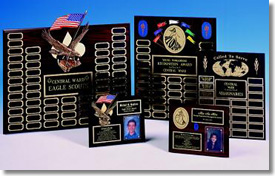 Broderick's Engraving is owned and operated by Justin Broderick, with over 17-plus years of plaque design and creation experience. Broderick's Engraving brings unparalleled expertise, craftsmanship and pride to the business, resulting in the type of quality work you are searching for. We very much wish to earn your business and are willing to work hard for the privilege. Broderick's Engraving is committed to excellence in product, service and above all - customer satisfaction.
We hope you find the information that you are looking for. We have compiled a few pictures from jobs done in our 10-plus year history to help you find a product that will interest you.
We welcome your inquiries, so don't hesitate to call us with questions.